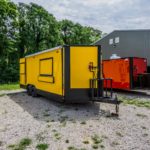 So, you're ready to open up your own mobile kitchen business. You've got the business plan laid out, secured the loans to finance your new project, and now you're looking for the best trailer to get things off the ground.
How much, exactly, does a new food trailer cost? Let's dive deep into some of the factors that go into the cost of a new food trailer.
How Much Does a New Food Trailer Cost?
The short answer? It depends. The cost of a food trailer in the United States can vary wildly from state to state for a number of reasons.
State-Specific Regulations
Each state has its own set of food service regulations that your food trailer must be compliant with in order for your business to remain viable and up to code. This means that the cost of outfitting a food trailer that meets those standards depends on exactly what regulations you are [...]