From the design process through the trailer completion, our desire is to partner with our customers before, during, and after the sale.
We understand that one of the most important keys to success in the mobile food industry is being able to serve a lot of food in a short amount of time. This is why our designs are created around workflow and efficiency. Our goal is to help our customers be as successful as possible as quickly as possible.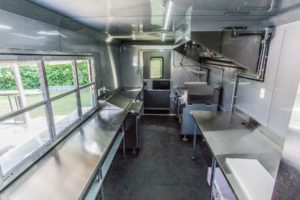 From there, we help our customers minimize costly downtime by providing them with the information needed to submit their plans to their local health and fire safety agencies for pre-approval. This way we can make any needed changes before construction begins.
During production, our project manager provides updates as well as helpful walk-through videos on how to best operate the trailer. Most importantly, we remain available to answer any questions our customers might have.
Once construction is completed on the trailer, it moves to our installation facility in Columbia, TN where we have dedicated professionals install the gas-lines, cooking equipment, and other custom work that needs to be done.
Even when the trailer is completed and in our customer's hands, the relationship does not end there! We remain available to help provide any support needed, and we also love promoting our customers on social media.
Our process and our team were built with one goal – helping our customers to be as successful as possible.
WHY CHOOSE US?
We include many standard features that others will charge you extra for.
Free designs with industry experts

Built-to-order trailers made for your exact needs

Standard trailer features at no additional price:

.030 Exterior Thickness Aluminum (compared to .024)

Large Capacity 3-Bay Sinks with Drainboards

Complete Electrical Package with 25′ Power Cord and 50Amp Plug.

All LED lighting inside and out

Insulated Walls and Ceiling