HOW TO START A FOOD TRUCK
Starting a food truck is a big endeavor, and like anything, if it is worth doing, it is worth doing well. The food truck market is a large and growing market with lots of opportunity for those who are willing to step out and make it happen. The first step to success in this industry is having a healthy understanding of what it truly takes to operate a food truck. When people think about starting a food truck, usually the first thought is, "If my food is good, I'll be successful." While good food is important, it really is just the beginning. This is a business that requires efficiency, permits, licenses, inspections, employees, payment systems, external power, operating locations, and the list goes on. While these things can be daunting, understanding these aspects and mastering them can be the difference between success or failure. Here at Custom Trailer Pros, our mission is to help our customers become as successful as possible as quickly as possible. With that in mind, we've put together the following items to consider when starting a food truck. If you can execute these things at a high level your chances of success will increase dramatically.
Food Truck Menu
First things first, you'll need to start with your food concept.  Developing your food truck menu is one of the most critical parts of the process because it will impact the food truck design, equipment needed, workflow, and total cost of the truck. Of course, you'll want to make great food, but you will also need to make it consistently fast. There is a concept in the restaurant industry called Plates Per Minute – how long does it take to serve your food from the time it is ordered to the time you plate it and hand it to the customer? A more complex menu will likely result in longer cook times, and therefore fewer customers served per hour, whereas a smaller menu will mean lots of plates being served in a short amount of time. This is why it is often the case that less is more. With this in mind, we recommend starting with a small menu that has your core items on it. Test what works and doesn't work, see what your money makers are, and then build around that. Once your core menu is set, you can always test new menu items along the way. At the end of the day, your menu will directly affect your plate's per minute ratio and overall profits.
Food Truck Design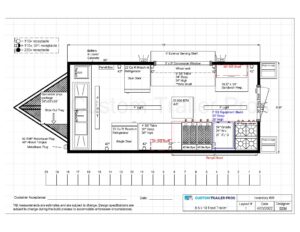 When starting a food truck, one of the things you want to decide is what kind of food truck design you will work with. You will need to determine if you want a food truck or a food trailer. There are various pros and cons for both options. The decision you make is arguably one of the most important in the startup process, as it will shape the rest of your journey. Another vital part of your decision will be considering a fluid workflow to execute your menu at the highest efficiency level. You will need to consider many other design options such as cooking equipment, workstations, and prep areas. The best thing you can do in this startup stage is partner with a professional. Some designers just try to fit specified equipment within the food truck, while a true professional designer will ensure your truck is designed to achieve maximum efficiency by understanding your menu, the equipment needed to execute your menu, and the proper workflow so that you can serve a lot of food as quickly as possible.
Financing a Food Truck
Financing is an integral part of the starting process for all food truck owners. It's easy to assume this process is similar to financing a car, but it is much more complex than that in reality. The obvious first step is determining the cost of the food truck, but you will also want to consider the total start-up cost and operating expenses of the business, such as taxes, fees, food, gas, cooking needs, employees, and insurance. Depending on your financial situation, you might want to explore a whole business start-up loan, or if you have some operating capital, you might only need to finance the food truck itself. Once you determine the amount of capital needed, you can begin looking at different options to achieve financing such as local banks, an SBA loan, national lenders or investors. If you operate an existing food business, this can sometimes give you a head start with lenders. Startup financing can be a long process and more difficult to acquire because ultimately, there is much more to it than just buying your food truck. This stage in the startup tends to sober up entrepreneurs, making it essential to consider early in the process.
Food Truck Permits
Permits can be a tedious but vital step in starting a food truck. Because each operating area is unique, it is crucial to get in touch with your local city and county officials to determine what you will need to legally operate in your area. You will most likely need permits and licenses relating to local health codes, fire safety codes, and business operations. There is an old saying, " It is better to ask forgiveness than permission"…that is just not the case for permits and health codes. Engaging your local officials as early in the process as possible to make sure you understand their expectations and that you are moving forward in the right direction could save a lot of time, money, and headaches down the road. Every municipality is different, with frequently changing rules, codes, and laws, so having a good relationship here will help you navigate these areas much easier.
Food Truck Location
Now it is time to consider your location strategy. You will need to decide on a model that fits your operation style. For example, you can have a mobile, permanent, semi-permanent, or catering style operation. You may also desire to have a combination of multiple functions. Ultimately your location will directly impact your model of operations.
You might start by researching local mobile food truck parks or other permanent location options for your food truck. A partnership with your local breweries can be very lucrative for a food truck owner as well and is worth investigating. Local partnerships can take your business a long way and can help you establish a consistent operating schedule. If your customers know where you will be on any given day, it will make repeat business a lot easier. Large events such as fairs, carnivals, and concerts can be good money makers as well, if managed correctly.  Another option that has grown in popularity is turning your food truck into a drive-thru. Something else to keep in mind is you will want to research the protocol for whatever locations you settle on. Things like local noise ordinance laws and other local protocols can affect your operation, making it essential to do your research beforehand. Overall, you will want to have multiple location strategies on deck.
Food Truck Generator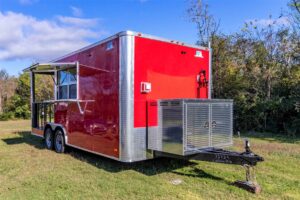 After you've mapped out your food truck concept, it's time to think about how you will power your mobile business. Typically you can use shore power (an electrical plug that draws power from a permanent source) or generator power. Food trucks are commonly powered by generators, and there are many different types of generators in the market. You will need to consider the equipment inside and conduct an electrical audit to determine what power level you will need when deciding what generator you will purchase. Essentially, you will have to choose between three types of generators: traditional portable generators (loud construction site type generators), inverter quiet portable generators (much quieter, more expensive, but also not quite as powerful) or in-line generators (quiet, directly wired into the food truck, most expensive solution). This is important to consider when buying your generator because you will need to understand how the sound produced from the machine will affect your business. Another factor to consider when purchasing is storing and securing your generator, so you will want to keep size in mind. Even when considering a permanent operating style, it is always good to own one. Generators are very valuable and provide the ability to power your truck and all the equipment inside on your own, allowing you to take your business to any location without power limitations.
Buying a Food Truck
Now that you have considered and decided on all those choices, it's now time to start thinking about buying your food truck. An essential part of the buying process is finding a qualified provider and making sure it's someone you can trust and work well with. There are all kinds of dealers out there, and with that comes all different levels of expertise, craftsmanship, build-times, and service. Reading reviews and getting referrals can be a great place to start. This process is not like buying a car; you are partnering with a dealer to custom design and build a food truck that meets your exact needs. Understanding build times and the time it takes to get the truck operational once you receive it (average of 30 days), is crucial. Therefore, working with a dealer who is honest and upfront about the process from start to finish is huge. Once you get your build time and make your deposits, you are on your way to being up and operating!
How to Run a Food Truck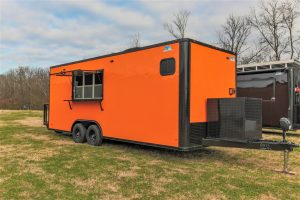 Finally, you have thought about everything you need to start your food truck. The only thing left to do is figure out how to run your food truck. There are many variables that will go into running your food truck – too many to cover. However, getting plugged into your local food truck community can be a great resource for you. In addition to that, social media has been a tremendous resource for many of our customers. Food truck owner community pages can provide helpful insights from those with experience, and there is opportunity to ask questions to the groups that are specific to your needs. Other important things to figure out are how to source your food and supply, location picking, and social media strategy. From there, you can determine your ordering and pickup strategy and consider will you need other things like a pager or awnings. Places you can store, dump, and fill your water supply are also crucial aspects of the process to determine as well. As the seasons change, you might need to plan to winterize your trailer. All of this and so much more will go into running your food truck. Once you are up and running, all the work you have put in up until this point will have set you up for smooth sailing.
Conclusion
Now that you have planned and thought out all these aspects of your business, you are ready to start your food truck! You should have a plan for every part of your business by this point. Finding the right partner and following the tips in this guide will help set you and your business up for success. Custom Trailer Pros has highly reputable and experienced professionals who will sit on the same side of the table as you to help turn your concept into a reality. For more in-depth information on any of the topics listed above, please call us at 800-859-5405 or follow us on Facebook or Instagram at @customtrailerpros. You can also visit our library at www.customtrailerpros.com for more information on all topics listed above.
WHY CHOOSE US?
We include many standard features that others will charge you extra for.
Expert designs with industry experts

Built-to-order trailers made for your exact needs

Standard trailer features at no additional price:

.030 Exterior Thickness Aluminum (compared to .024)

Large Capacity 3-Bay Sinks with Drainboards

Complete Electrical Package with 25′ Power Cord and 50Amp Plug.

All LED lighting inside and out

Insulated Walls and Ceiling