How Much Do New Food Trailers Cost?
So, you're ready to open up your own mobile kitchen business. You've got the business plan laid out, secured the loans to finance your new project, and now you're looking for the best trailer to get things off the ground.
How much, exactly, does a new food trailer cost? Let's dive deep into some of the factors that go into the cost of a new food trailer.
How Much Does a New Food Trailer Cost?
The short answer? It depends. The cost of a food trailer in the United States can vary wildly from state to state for a number of reasons.
State-Specific Regulations
Each state has its own set of food service regulations that your food trailer must be compliant with in order for your business to remain viable and up to code. This means that the cost of outfitting a food trailer that meets those standards depends on exactly what regulations you are required to uphold. Check your local and national regulations and make sure that the builder knows what those are so you don't run into a headache later.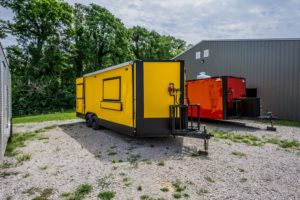 Size of the Trailer
While you save some money buying a trailer instead of full-sized food truck due to the fact that you aren't buying an automobile, the size of the trailer can affect the final price point. The bigger it is, the more it will cost. Be sure to know exactly what you'll need in terms of size so you don't find yourself going over budget.
Did You Customize It?
Customizing your new food trailer can significantly affect the final price that you pay. Additions or other remodels to your new food trailer will add on to the original price that you paid for it. Alternatively, if you decide to work with a builder to create your food trailer from the ground up rather than changing an existing design, you can expect the budget to vary depending on what you add to the build.
All in all, you can expect to pay anywhere from $10,000 to $100,000 for your new food trailer, depending on the factors above.
Get a Custom Trailer That Fits Your Needs and Your Budget
The experienced professionals at Custom Trailer Pros have extensive knowledge of the national and state food service regulations and will work with you to build a new food trailer that is up to code and fits within your budget. Custom Trailer Pros will build a food trailer to your specifications from the ground up. Call today and see what makes Custom Trailer Pros the industry leader in mobile food distribution kitchens.
Ready to get a fully customized food trailer for your mobile kitchen business? Call Custom Trailer Pros today to get a quote.